Description:
Part 2 & 3 BLS HeartCode Skill Session
THIS IS DONE AFTER YOU HAVE PURCHASED AND COMPLETED THE HEARTCODE PART 1, LOOK TO YOUR RIGHT TO PURCHASE ANY OF THE FOLLOWING ACCESS KEYS......BLS for Healthcare, Heartsaver CPR/AED, Heartsaver First Aid or Heartsaver CPR/AED First Aid PART 1 Access Key >>>>>>>>>>>>>>>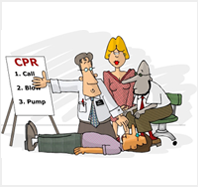 This is for BLS Part 2 and 3 Skill Session
If you have already completed one of the above Access Key Codes then please continue to scroll below and register for the Part 2 & 3 Skill Session. After you complete the Skill Session with us you will receive your completion card.
THIS SESSION IS NOT INTENDED FOR ACLS OR PALS
Please bring your CERTIFICATE of completion with you.

Please bring a photo I.D.

You may not enter the Part 2 & 3 Skill Session without the certificate of completion.
Please use this provided link to read our "Cancellation Policy" before paying for the course: Cancellation, Reschedule, Refund, Credit Policy
 Receive your AHA eCard on the day of class
The American Heart Association strongly promotes knowledge and proficiency in all AHA courses and has developed instructional materials for this purpose. Use of these materials in an educational course does not represent course sponsorship by the AHA. Any fees charged for such a course, except for a portion of fees needed for AHA course materials, do not represent income to the AHA.